Swami
Vivekananda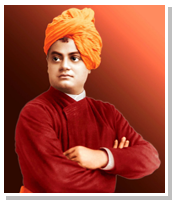 Swami Vivekananda was born as Narendranath in Calcutta on 12th January 1863. His father Shri Vishwanath Datta was an Attorney of Calcutta High Court who had a liberal, progressive outlook on social and religious matters. His mother Smt. Bhuvaneswari Devi was a very pious woman, helped shaped young Narendra's thinking and personality. Swami Vivekananda was described by his western admirer, "Young in years, but eternal in wisdom". Swami Vivekananda was a major force in the revival of Hinduism in India and contributed to notion of nationalism. He was moulded by his Master Sri Ramakrishna, who taught him that all religions are true and that service to man is the most effective worship of God.

"Jeeva Seva – Shiva Seva, Nara Seva – Narayana Seva" is the cardinal slogan of Swami Vivekananda. He became world famous after his participation in the World Parliament of Religions at Chicago in 1893 and later he became India's spiritual ambassador in America. Swami Vivekananda is regarded as the Patriotic Saint of modern India and his birthday is celebrated as National Youth Day which falls on 12th January every year as per English calendar. He is the icon for the youth.

His love for the country and for the people was something marvelous. He travelled nook and corner of India as a Parivrajaka(wandering monk) to know and understand the condition of India and her children. He founded the twin organizations, Ramakrishna Math and Ramakrishna Mission, in the name of his master to spread the man-making religion of Sri Ramakrishna and to render service to the needy. He inspired many people and changed their whole life for their own betterment. He was influenced by great scholars, industrialists, freedom fighters, philosophers and others.